Sip. Swap. Savour - Trelish Book Exchange event - Oct 2023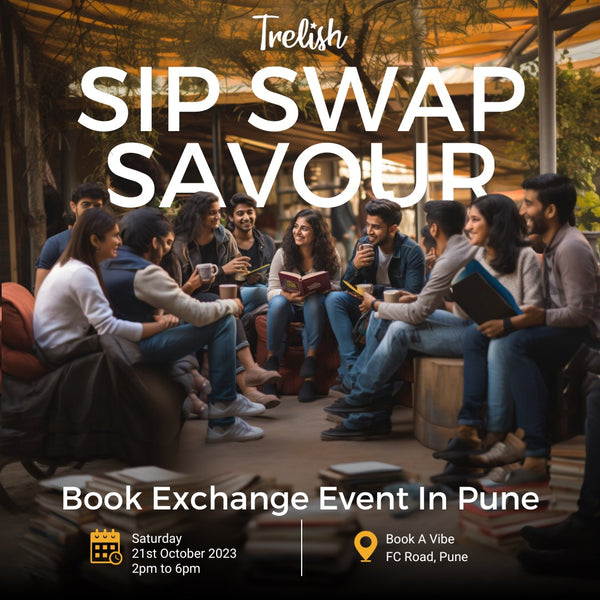 Date & Time : 

21st October 2023 | 2pm - 6pm (4 hours)
Welcome to "Sip Swap Savour": Where Books, Coffee, and Surprises Await!
Here's what you can expect:
Trelish Coffee for Every Guest
We believe in the power of a perfectly brewed cup of coffee to elevate your reading experience. That's why we're thrilled to serve you our Trelish coffee, expertly crafted to tantalize your taste buds. 
Games Tailored for Bibliophiles
Challenge your knowledge, engage in bookish charades, and discover new dimensions of fun with fellow bibliophiles 
Instructions for the Exchange
1. Each guest is invited to write a heartfelt note within the books they bring to share. Our team will pick up your books from your address before the event and give you coupons in exchange which can be redeemed at the venue
2. In the spirit of anticipation, we're hosting a surprise book exchange. You won't know the exact book you'll receive, but fear not, you can choose based on genres. Will it be a classic, a mystery, or a heartwarming romance? The excitement is part of the adventure.
3. Each guest is welcome to share up to 5 of their favorite books. It's a fantastic opportunity to introduce fellow readers to your most cherished reads.
Don't miss this unique opportunity to connect with fellow book enthusiasts, share a great cup of coffee and take home new tales to cherish.
Terms & Conditions:
Each individual can exchange upto 5 books only

Books can be fiction / non-fiction / children's books. Educational books will not be accepted

This is an in-person event and exchange can be conducted at the venue only

Books that are not picked at the end of the event will be collected and donated to an orphanage. If the owners want the books back, then collecting the books will be at the owners responsibiliy

Books that are damaged / torn / with missing pages will not be accepted
Good times and good coffee!
Got introduced to Trelish! I don't drink a lot of coffee but this one was good! It did not lose its taste when I added too much sugar.