Filter Coffee - Liquid Brew - Standee Pouch (Set of 2)
Enjoy a crisp cup of authentic Filter Coffee minus the hassles or waiting time. With 1 standee pouch of the Filter Coffee Liquid Brew (180 ml), you can make 9 - 10 cups of strong and bold filter coffee.

Our filter coffee decoction requires no extensive brewing process. Simply pour the decoction into your cup, add hot milk and sugar (as per taste), and you're ready to go.

Made from the choicest blend of coffee beans sourced from Chikmagalur. Our Filter Coffee Liquid Brew is 80% coffee, 20% Chicory, and 0% preservatives.
What's Included?
You'll receive 2 standee pouches (180 ml each) of Filter Coffee liquid brew. These can be used to make up to 20 cups of classic Filter Coffee.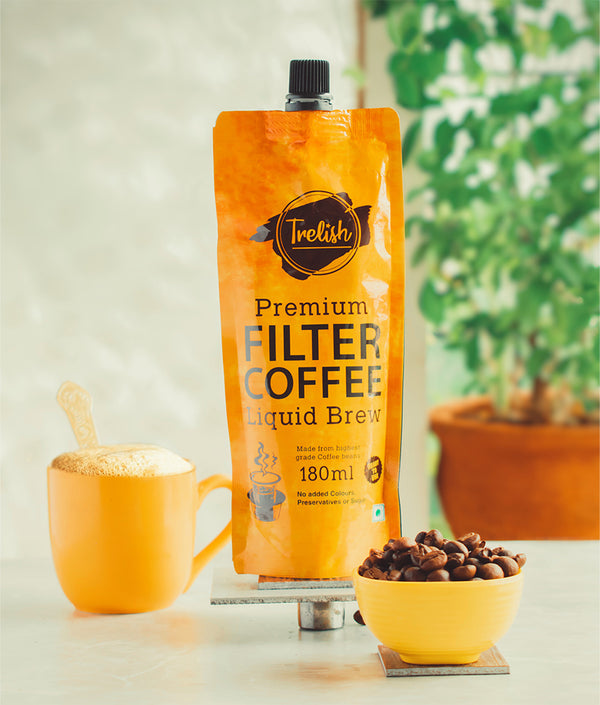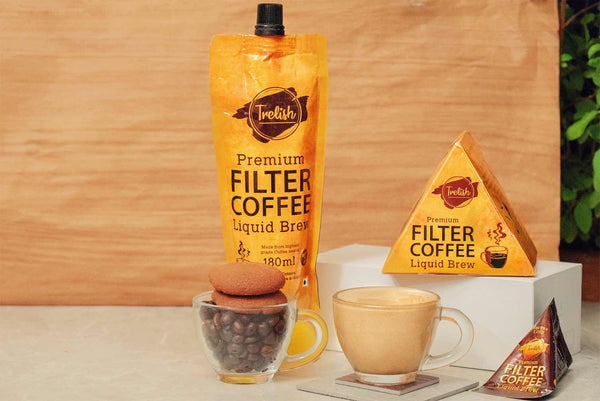 Why Choose Trelish Filter Coffee Liquid Brew?
1. Consistent amazing taste for 10 months since manufacturing.
2. Travel-friendly - take & make your coffee anywhere
3. Contains no sugar or preservatives
Directions for use
1. Shake the Filter Coffee Liquid Brew standee pouch well before use.
2. Pour roughly 20 ml of liquid brew into a cup.
3. Add sugar for taste (optional)
4. Add 100 ml milk from height to create frothed filter coffee.

Loved by Filter Coffee Lovers
Good taste, you can totally adjust the darkness (strength of the coffee) according to your liking. Super easy to make.
Gaurav
Delicious south indian quick coffee.
Absolutely yummy authentic south indian coffee. My 7yr old also loves it!!
Best part is...its so easy to make!! Hot or cold coffee..can be made within minutes!!
Shekar
Good stuff!
Tastes like authentic south Indian filter coffee. Cute packaging and the quantity per sachet is just right for one cup so no wastage.
Aruna Krishnamurthy
Tastes like the authentic filter coffee.
Trelish filter coffee has always been a great experience for coffee lovers and its nice to know that they're on amazon now. We get very close to the freshly brewed filter coffee with the single use sachets! We are now considering this as a gift option for Diwali !
ACR Project Consultants
This is an amazing way to get my daily cup of filter coffee!
I use them at my office daily (the usual coffee machine's terrible) and always carry some of these handy sachets when I travel between cities for meetings. Recommended!
Sajan Varghese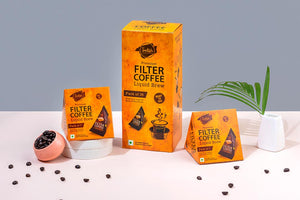 Simplifying Great Filter Coffee
For many of us, filter coffee has been part of our lives since childhood. Brewed every day in the same traditional manner, we can recognize its aroma anywhere.
However, thanks to our fast-paced lifestyles, many of us can't find the time to brew filter coffee every day. And for them, our Filter Coffee Liquid Brew is the perfect answer.
Based on our age-old recipe and from the choicest of coffee beans from Chikmagalur, our liquid brew makes great filter coffee simple.
With our Filter Coffee liquid brew decoction, brew a crisp and bold cup of filter coffee just how you prefer it, minus the hassles or waiting time.
Easy to Brew,Needs No Equipment
Forget ground coffee… Even Instant coffee requires stirring and
whipping to ensure a lump-less experience. We've changed
that with our Liquid Brew coffees, delivering a uniform and
evenly tasting coffee…
Every. Single. Time.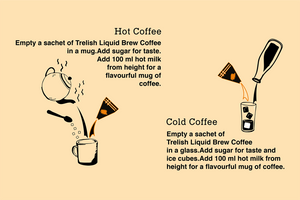 Easy to Use
Brews in less than 2 minutes. No equipment required.
Portability
Fits in your pocket. Take and make your coffee anywhere.
Natural
Rich in caffeine, free from sugar and preservatives.
Coffee Simplified
No-frills & hassle-free. Get the same taste everytime.
PAN-India Shipping
Freshly prepared liquid brews, shipped for free across India.