Americano Black Coffee - Liquid Brew
The Americano Black Coffee belongs to our Global Series of coffees. It's especially preferred by black coffee lovers and delivers a smooth cup of Americano coffee.

Made from 100% coffee, the Americano Black Coffee Liquid Brew carries authentic taste and simplicity. Simply add hot water to brew.

Made from the choicest blend of coffee beans sourced from Chikmagalur. Our Americano Liquid Brew contains 0% preservatives.
What's Included?
Trelish Americano Liquid Brew Coffee comes in -
1. Combo of 2 boxes - includes 14 single-serve sachets (20 ml each) - makes 14 cups of coffee.

2. Combo of 4 boxes - includes 28 single-serve sachets (20 ml each) - makes 28 cups of coffee.
The coffee is easy to make and requires no special equipment.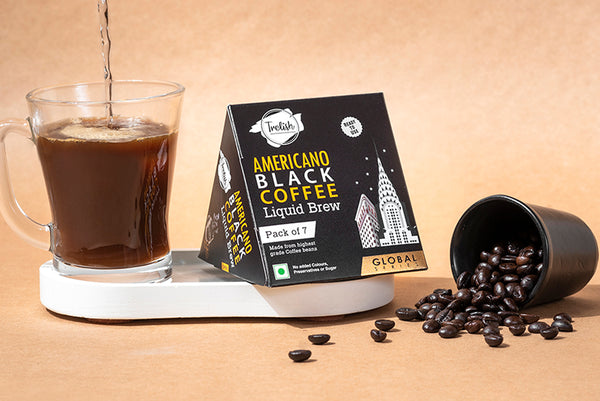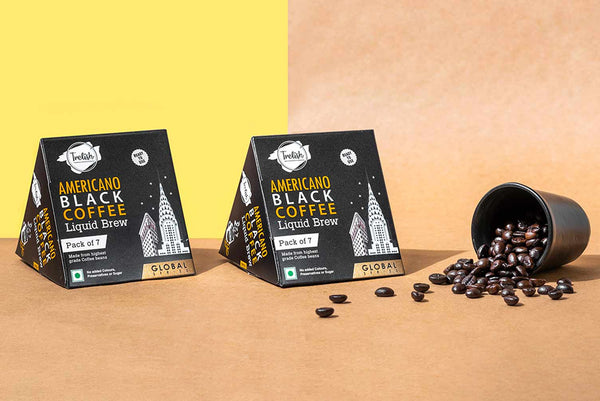 Why Choose Trelish Americano Liquid Brew?
1. Consistent amazing taste for 10 months since manufacturing.
2. Travel-friendly - take & make your coffee anywhere
3. Contains no sugar or preservatives
Directions for use
1. Shake the Americano Black Coffee Liquid Brew sachet well before use.
2. Empty the sachet in a cup.
3. Add hot water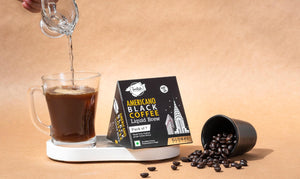 During the 2nd World War, American soldiers stationed in Italy found themselves facing another challenge. The Italian espresso-style coffee was quite dark and rich for their palette. To achieve a lighter and smooth brew, they diluted the same with hot water. The Americano was born.


Inspired by the traditional Cafe Americano, Trelish's Americano liquid brew coffee brings the same smooth and easy texture to life for black coffee lovers.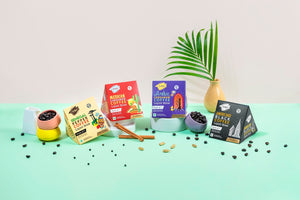 Global Series - The World in a Coffee Cup
The Global Series is inspired by coffee flavours from all over the
world.
All recipes and ingredients used are true to the traditional way they
are made at their origin. This makes every sachet of the Global
Series liquid brews a ticket to travel across the world. Every sip is a
journey to far-off lands.
Easy to Brew,Needs No Equipment
Forget ground coffee… Even Instant coffee requires stirring and
whipping to ensure a lump-less experience. We've changed
that with our Liquid Brew coffees, delivering a uniform and
evenly tasting coffee…
Every. Single. Time.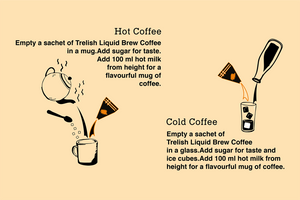 American Black coffee Liquid brew
We want American Black coffee powder.is it available in your company or you can get the powder from reliable shops please supply the energetic coffee powder.Because I am gastric problem patiant.Can you help me in this regard
Thank you very much for supplying the good 🙏🙏🙏🙏coffee
Must Buy
This is easy to make. Can be carried anywhere in the purse. Safe packing
Good taste
I am a coffee lover and i love it's taste. It is easy to prepare just add it in milk and sugar optional and the coffee is ready.
Fully recommended
My friend recommended this to me and i trust her choice so I also tried and i must say that this is just awesome. Go for it
Perfect taste
This coffee has perfect taste as well as aroma. It takes two minutes to prepare it. Packing is nice
Easy to Use
Brews in less than 2 minutes. No equipment required.
Portability
Fits in your pocket. Take and make your coffee anywhere.
Natural
Rich in caffeine, free from sugar and preservatives.
Coffee Simplified
No-frills & hassle-free. Get the same taste everytime.
PAN-India Shipping
Freshly prepared liquid brews, shipped for free across India.