Cold Coffee - Assorted Pack of 7 Bottles
For Cold Coffee lovers, it doesn't get better than this! Trelish Cold Coffees offer the highest caffeine content in India, giving you the cool kick to get ticking!
Try our newest collection of no-frills and delicious cold coffees - have them anytime and anywhere.
The assorted pack of cold coffees contains our following signature flavours -
Classic - 3 bottles x 200 ml each

Vanilla - 2 bottles x 200 ml each

Hazelnut - 2 bottles x 200 ml each
Prepared using our in-house liquid brews, every 200 ml bottle of the Cold Coffee offers wholesome and well-rounded flavours of coffee. It's a delight to have any day and will refresh you.

It's ready to drink and is best served chilled.

Made from the choicest blend of coffee beans sourced from Chikmagalur. These Cold Coffees contain 0% preservatives.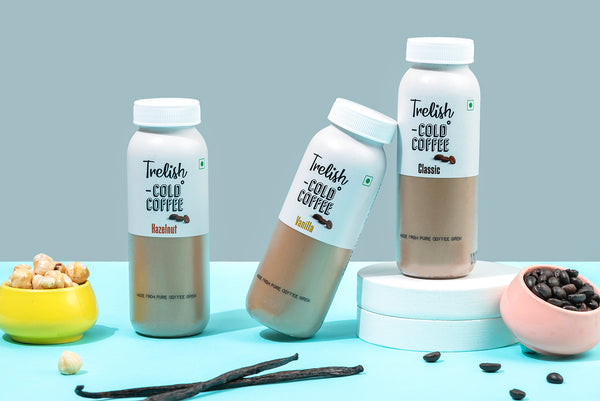 Why Choose Trelish Cold Coffee?
1. Consistent amazing taste for 6 months since manufacturing.
2. Travel-friendly - take & make your coffee anywhere
3. Contains no sugar or preservatives
Directions for use
1. Shake the bottle of Classic Cold Coffee well before use.
2. Open the bottle.
3. Enjoy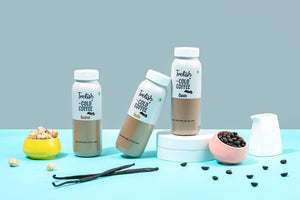 Cold Coffee Series - Enjoy a Cold One, Anytime and Anywhere
Cold Coffee is one of the most popular and preferred coffee drinks on the planet. And yet, one doesn't find great cold coffee anytime and anywhere.
At Trelish, we've made an honest attempt at solving that with our Cold Coffee Series. Made from our in-house liquid brews, every bottle of cold coffee offers the same smooth and consistent flavour.
It's portable, it's easy to carry, and it's simply great cold coffee.
Easy to Use
No brewing required. Just open the bottle and enjoy.
Portability
Fits in your pocket. Take and make your coffee anywhere.
Natural
Rich in caffeine, free from sugar and preservatives.
Coffee Simplified
No-frills & hassle-free. Get the same taste everytime.
PAN-India Shipping
Freshly prepared liquid brews, shipped for free across India.