Irish Flavour - Liquid Coffee Brew
The Irish Coffee belongs to our Flavoured Series of coffees. These are a must-try for brewing delicious cafe-style coffees anywhere.

The Irish Coffee liquid brew carries the usual well-rounded flavour of coffee, accompanied by notes of irish whiskey. It's a delight to have on a summer day and will refresh you, especially if made as a cold coffee.

Made from the choicest blend of coffee beans sourced from Chikmagalur. Our Irish Coffee Liquid Brew contains 0% preservatives.
What's Included?
Trelish Irish Flavour Liquid Brew Coffee comes in -

1. Combo of 2 boxes - includes 14 single-serve sachets (20 ml each) - makes 14 cups of coffee.

2. Combo of 4 boxes - includes 28 single-serve sachets (20 ml each) - makes 28 cups of coffee.

The coffee is easy to make and requires no special equipment.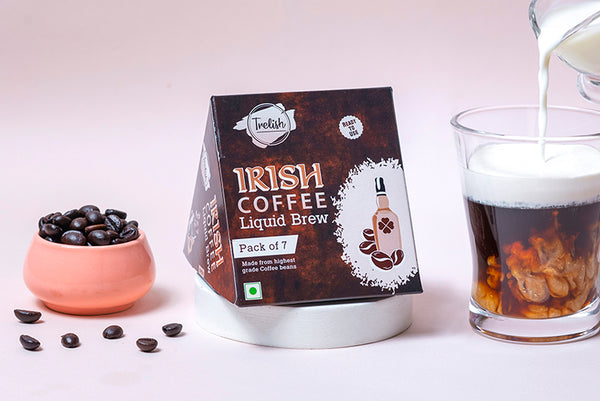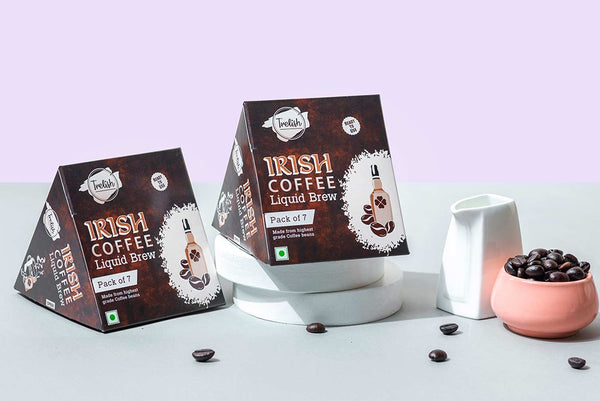 Why Choose Trelish Irish Coffee Liquid Brew?
1. Consistent amazing taste for 10 months since manufacturing.
2. Travel-friendly - take & make your coffee anywhere
3. Contains no sugar or preservatives
Directions for use
1. Shake the Irish Coffee Liquid Brew sachet well before use.
2. Empty the sachet in a cup.
3. Add sugar for taste (optional)
4. Add 100 ml milk from height to brew the coffee. Blend if making cold coffee.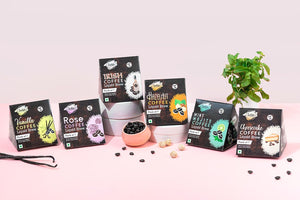 Flavoured Series - It's Great Coffee and a lot more
There are all kinds of coffee lovers. Some stick to the traditional filter coffee, while others like to try new coffees every time.
For them, we created the Flavoured Series of liquid brew coffees. Try an assortment of easy-to-brew cafe-style coffees at the comfort of your home. Or anywhere for that matter, since they come in pocket-sized sachets.
All ingredients used are fresh and procured from select partners. Our recipes have been perfected in-house to deliver flavoured coffees that'll put a smile on your face.
Easy to Brew,Needs No Equipment
Forget ground coffee… Even Instant coffee requires stirring and
whipping to ensure a lump-less experience. We've changed
that with our Liquid Brew coffees, delivering a uniform and
evenly tasting coffee…
Every. Single. Time.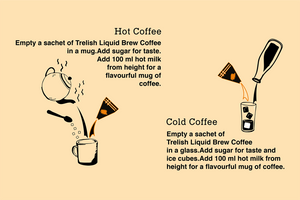 Easy to Use
Brews in less than 2 minutes. No equipment required.
Portability
Fits in your pocket. Take and make your coffee anywhere.
Natural
Rich in caffeine, free from sugar and preservatives.
Coffee Simplified
No-frills & hassle-free. Get the same taste everytime.
PAN-India Shipping
Freshly prepared liquid brews, shipped for free across India.
FEEDBACK FROM COFFEE LOVERS
Trelish is relish ..!!!
I simply like the trelish brew coffee and have tasted most of the flavours. Just love the taste of the brew. Just sip once and you will never forget Trelish. Very easy to make and perfect flavour
Netra
Got the mix box of Flavoured Series as a birthday gift and boy! The coffee-lover in me is delighted.
The box features a diverse set of tastes, right from common ones (Hazelnut & Vanilla) to very new comes (CHEESECAKE!). The best part is you can make both hot and cold coffee with these.
I love it and recommend if you like to try different flavours all the time.
Ravindra