Explore our range of coffees
Image block
Use these image blocks to tell your story, promote your products or create a beautiful gallery.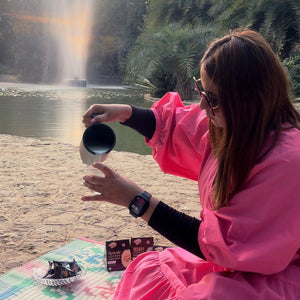 Love our Liquid Brews?
Subscribe & Save Up to 15%
Never run out of coffee again. Get regular coffee deliveries as per your chosen schedule.
What's more - you can save up to 15% on your coffee supplies.
Easy to Use
Brews in less than 2 minutes. No equipment required.
Portability
Fits in your pocket. Take and make your coffee anywhere.
Natural
Rich in caffeine, free from sugar and preservatives
Coffee Simplified
No-frills & hassle-free. Get the same taste everytime.
PAN-India Shipping
Freshly prepared liquid brews, shipped for free across India.
Coffee of the Month
Cheesecake Coffee - Liquid Brew
This one's for the cheesecake lovers! Make yourself a delicious cup of coffee with cheesecake flavour in 2 quick minutes.
FUELLING CREATORS ALL-AROUND
Great Coffee Simplified
Introducing liquid brew coffees - simply pour into a cup and add add milk / water. That's all it takes to make a great cup of coffee with Trelish.
We believe great coffee doesn't need to be complicated.
Wondering how this idea came about?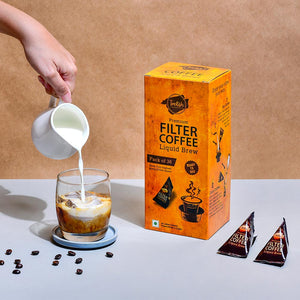 A quick and instant black coffee which taste super fresh and is easy to make. This black coffee has so many health benefits in them as well. Have tried the Trelish Filter Coffee. One more feather to the cap. Looking forward for more.
Sohil Mehta
Being a black coffee enthusiast found this to be the smoothest black coffee I ever had. Highly recommended due to the taste, ease of mixing and the packaging
Dipti
Perfect blend of mint and Vanilla without losing taste of filter coffee. Me and my guests loved it. Recommended always! Go for it.
Jyoti Mahajan
Good taste, You can totally adjust the darkness according to your liking. Super easy to make.
Gaurav
Delicious south indian quick coffee
Absolutely yummy authentic south indian coffee. My 7yr old also loves it!! Best part is...its so easy to make!!
Hot or cold coffee... can be made within minutes!!
Shekar
Good stuff! Tastes like authentic south Indian filter coffee. Cute packaging and the quantity per sachet is just right for one cup so no wastage.
Aruna Krishnamurthy
Loved it! I have never tried pepper coffee before and I could actually taste pepper in it. I would probably say that this coffee is a must for coffee lovers.
Arvind
Trelish - Whats in a name??
One of the most commonly asked questions to us is "What's the meaning of Trelish and how did you guys come up with th...
Trelish - How it all began
 The roots of Trelish have a very personal connection to my life. Belonging to a south-Indian family, I have always s...